I will make up the kits as their ordered
If you would like to order parts separately just ask .
Dual Rotor alternator kit
The kit includes:
2 8 inch magnet plates with holes completed
1 10 inch stator mounting plate holes completed
1 Bearing hub
2 Bearings
1 1 inch shaft
1 shaft locking collar
1 2" magnet disc spacer machined and drilled
24 wedge shaped neodymium magnets
And... all the parts below to complete the wind turbine head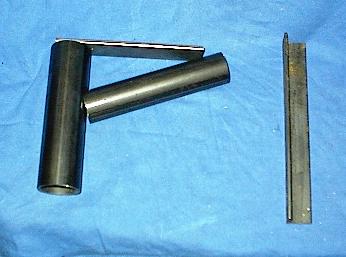 You'll provide the stator, prop and tail feather as per the instructions below..
Instructions: assembly and building the stator in .pdf format ( about 1.66mb download)
Note: Don't use the 44 turns to lower cut in speed, it will stall the blades and the performance will be lower until higher winds. Use the 40 turn coils. You can increase the blade size to 7 ft and use the 44 turns.
Instructions: building the blades and assembly ( 449kb pdf)
Wiring the turbine ( 140kb pdf
This kit is not available at this time.
There is a blade kit that is available and works well with this kit ... just ask!
These kits will be available for a limited time. If you have questions feel free to ask
This is a trial for these if you'd like to see other options let me know how you want it and I will see what can be done at a reasonable cost
This kit is based on the dual rotor project on the projects page with the exception of the stator. The stator will be an easy to build and wire 9 coil design...
send an email if your interested elenz(at)windstuffnow(dot)com
NOTE: when sending an email you must put something in the subject line pertaining to this site or it will be deleted immediately
Below is a chart showing the performance of the alternator based on a 12volt system. Remember just because it will perform better doesn't mean you should make it do so. I've set the furling at around 28 mph so not to exceed 700 watts.
I will be adding things as time goes on so keep checking back from time to time. If you would like to see other items that are not listed send me an email and let me know what your looking for...
Large Steel Discs
Steel Discs
I have 3 sizes available right now, 8 inch, 10 inch and 12 inch. All made from 3/16" steel plate. Great for prop mounting hubs, magnetic discs for use with an axial flux machine or a combination of both.
(because of the increasing steel costs the prices are subject to change without notice - I try to keep the prices as low as possible ).
8 inch disc $13.50
10 inch disc $19.95
12 inch disc $27.95
I can cut custom sizes from 1/8 inch and 3/16 inch steel sheet - just ask! Also, when time allows I can cut other parts you may need.
Custom sizes, shapes or other designs can be cut as well. Just send an inquiry on your design.
The basic disc has a 1/4" center hole to allow for easy boring with a hole saw or other method of drilling.
Note: you must put a message in the subject line relating to this site or your email will be deleted and therefore not answered.